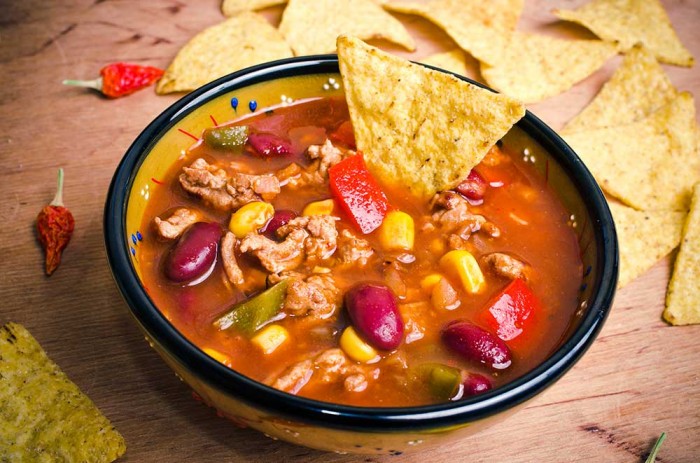 Zesty Mexican Soup
Prep and Cook Time: 40 minutes
Ingredients:
1 medium onion, minced
medium cloves garlic (to personal taste), chopped
2 TBS red chili powder
3 cups + 1 TBS chicken or vegetable broth
1 small to medium green bell pepper, diced into 1/4-inch pieces
1 small zucchini, diced into 1/4-inch pieces
1 cup finely chopped collard greens
1 15 oz can (BPA free) diced tomatoes
2 cups or 1 15 oz can (BPA free) black beans, rinsed
1 cup frozen yellow corn
1 4 oz can (BPA free) diced green chili
1 tsp dried oregano
1 tsp ground cumin
1/4 cup chopped pumpkin seeds
1/2 cup chopped fresh cilantro
salt and pepper to taste
Directions:
Heat 1 TBS broth in a medium soup pot. Healthy Sauté onion, garlic, and green peppers in broth over medium heat for about 5 minutes, stirring often.
Add red chili powder and mix in well. Add broth and tomatoes. Cook for another 5 minutes and add beans, corn, green chili, oregano, and cumin.
Bring to a boil on high heat. Once it begins to boil, reduce heat to medium-low and simmer uncovered for 10 minutes longer. (Simmering uncovered enhances the flavor.)
Add zucchini and collard greens and cook for 5 more minutes. Add chopped cilantro, pumpkin seeds, salt, and pepper.
Serves 6