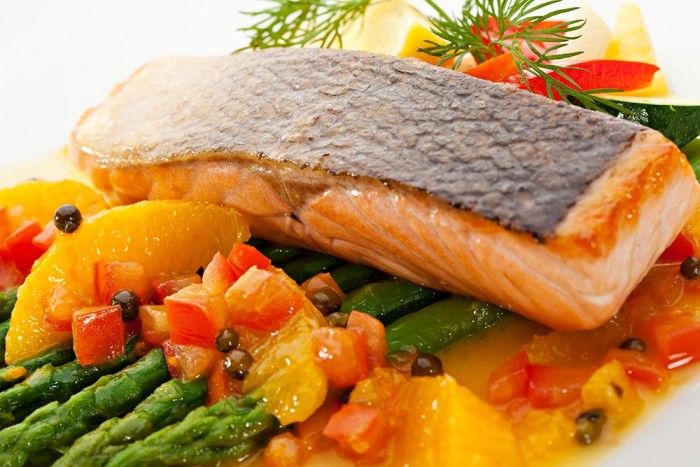 Southwestern Salmon & Black Beans
Prep and Cook Time: 30 minutes
Ingredients:
1-1/2 lbs. salmon cut into 4 pieces, skin and bones removed
1 small sized onion, minced
1 small sized red bell pepper, diced 1/4 inch
2 medium cloves garlic pressed (garlic to personal taste)
1 TBS + 1/2 cup chicken or vegetable broth
2 cups or 15 oz. can black beans (BPA free and organic if possible), drained
1-1/2; TBS red chili powder
about 2 cups shredded romaine lettuce, outer leaves discarded
1 medium avocado, cut into cubes
Sauce:
2 TBS fresh chopped cilantro
1 TBS fresh chopped mint
1 TBS fresh chopped basil
3 TBS fresh lemon juice
3 TBS olive oil
1 TBS chopped pumpkin seeds
salt and pepper to taste
Directions:
Season salmon with a little salt and pepper. Set aside while you chop and sauté vegetables.
Mince onions and press garlic and let sit for at least 5 minutes to enhance their hidden health benefits.
Heat 1 TBS broth in a 10-12 inch stainless steel skillet. When broth begins to steam add onion, bell pepper and garlic and Healthy Sauté on medium heat for about 5 minutes stirring frequently.
Add 1/2 cup broth, drained beans, and red chili powder. Cook for another 10 minutes. Season with salt and pepper to taste.
While beans are cooking, preheat broiler. Place a stainless steel or cast iron skillet large enough for salmon under the heat to get hot. This takes about 10 minutes.
In a bowl mix together cilantro, mint, basil, lemon juice, olive oil, pumpkin seeds, salt and pepper.
Place salmon in the hot pan and return to broiler about 5 inches from the heat source for best results. Broil salmon for about 7 minutes for medium doneness. This is our Quick Broil cooking method. Serve salmon, beans, lettuce and avocado together on a plate. Top salmon and lettuce with cilantro topping.
Serves 4