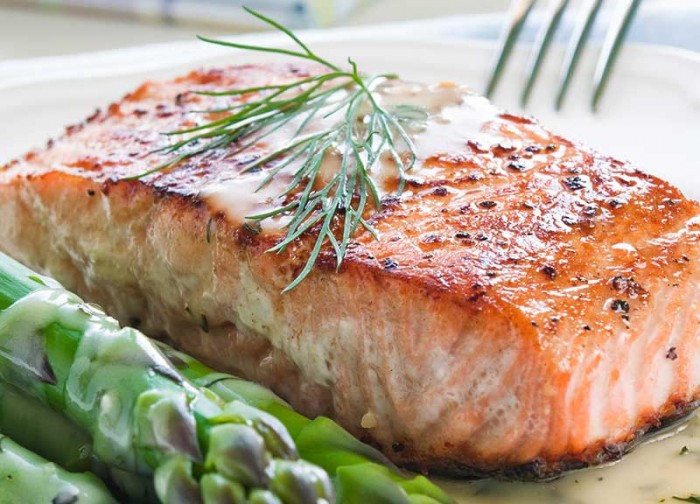 Salmon in Citrus Sauce
Background & Dietary Benefits
In my Week 1 article, I mentioned that winter months and at times throughout life, we can feel depressed and out of energy. Omega 3 Fatty acids are important to brain function and your mental outlook on life. They also help people who suffer from inflammation and pain problems. Researchers have found that many patients with depression and mood disorders are deficient in Omega 3 Fatty Acids.
If you want to add over 100% of the daily value for those hard-to-find omega-3 fatty acids to your Healthiest Way of Eating, try this healthy and tasty treat. This delicious, easy-to-prepare salmon recipe is a sure-fire hit. The tangy sauce is a great complement to the flavor of the salmon and it only takes minutes to prepare. Enjoy!
Prep and Cook Time: 15 minutes
Ingredients:
1-1/2 lbs salmon filets, cut into 4 pieces (preferably wild – not farm raised)
1/2 medium sized onion, chopped
2 medium cloves garlic, chopped
2 TBS + 2 tsp fresh lemon juice
1-1/2 cups fresh orange juice
1 tsp fennel seeds
2 TBS minced fresh parsley, or if you have it, green fennel tops
salt and white pepper to taste
Directions:
Preheat broiler and place a stainless steel or cast iron skillet under broiler for about 10 minutes to get it very hot.
Chop onions and garlic and let sit for 5 minutes to enhance their hidden health-promoting properties.
While skillet is heating, place chopped onion, garlic, fennel seeds, 2 TBS lemon juice, and orange juice in a shallow, wide saucepan and cook on high heat for about 10-15 minutes to reduce to half the volume.
Season salmon pieces with 2 tsp lemon juice, salt and pepper and place on hot pan from broiler skin side down and cook for about seven to ten minutes (depending on thickness). Return pan to broiler (approximately 5-7 inches from heat) and broil salmon for about 7 minutes depending on thickness (10 minutes per inch of thickness). Do not turn, as salmon is cooking on both sides at once.
Remove salmon from pan, and place on platter. Season citrus sauce with salt and pepper and strain liquid over salmon. Sprinkle with finely chopped parsley.
Serves 4