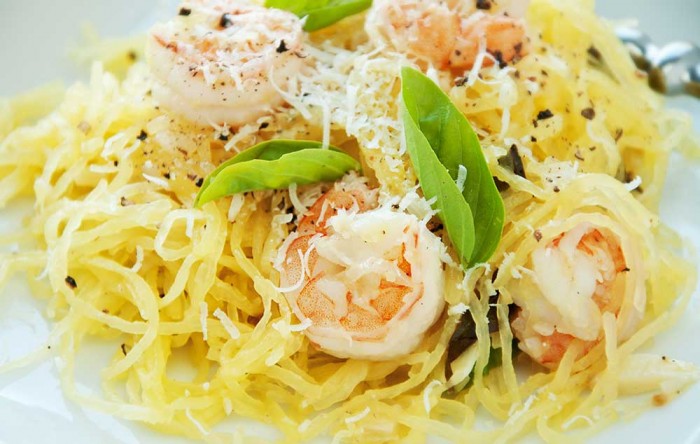 Roasted Shrimp over Spaghetti Squash
Ingredients:
1 large spaghetti squash, halved lengthwise
Kosher salt and freshly ground pepper
1 pound large shrimp, peeled and deveined
1 tablespoon plus 1 teaspoon extra-virgin olive oil
1 tablespoon lemon juice, plus lemon wedges for serving
2 tablespoons fresh parsley, roughly chopped
Directions:
Preheat the oven to 375ºF. Season the squash with salt and pepper. Place cut side down in a 9-by-13-inch baking dish. Add 3/4 cup water, and roast until tender when pierced with a knife, about 45 minutes. Let cool.
When about 25 minutes have passed, on a rimmed baking sheet, toss the shrimp with 1 teaspoon oil and season with salt and pepper. Roast until cooked through, 8 to 10 minutes.
Scoop out the seeds from the squash and discard. With a fork, scrape the flesh into a large bowl. Add the shrimp and any cooking juices, lemon juice, and 1 tablespoon oil; toss to combine. Season with salt and pepper, top with parsley, and serve with lemon wedges.
Serves 2