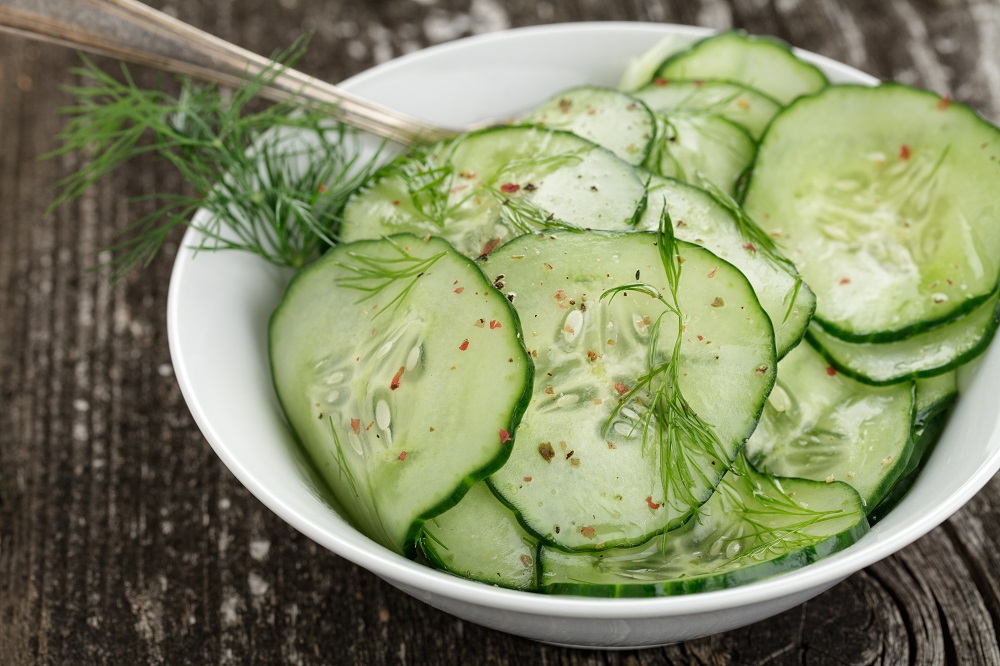 Pickled Cucumbers with Ginger
Ingredients:
4 cucumbers, peeled
½ cup sea salt
1 cup brown rice vinegar
3 tablespoons sugar
1 teaspoon sea salt
1 teaspoon freshly ground black pepper
6 tablespoons sliced fresh ginger, peeled
Directions:
Slice the cucumbers very thinly. Place in large bowl and sprinkle ½ cup sea salt. Using your hands, toss the salt throughout the cucumbers and lightly squeeze the slices as you toss. Cover and let sit at room temperature for 1 hour. The salt will draw the water content out of the cucumbers.
Pour the cucumbers and liquid into a colander to drain. While in the colander, use your hands to squish out as much water as possible. Return cucumbers to bowl.
Add the vinegar, sugar, salt, pepper, and ginger. Toss to combine. Cover and refrigerate 12–24 hours.
Remove from refrigerator and taste. It should be tart with a bit of sweetness and spice. Adjust flavors if necessary by adding more sugar or pepper. If it tastes watery, drain some liquid and add more vinegar.
Serves 4
Ginger Fun Facts
Ginger ale was invented in 1852 by a doctor in Ireland. It was America's favorite beverage by the 1880s, and thousands of bottlers tried to create a new ginger-based obsession using all kinds of secret ingredients and spices. But cola edged it out by the end of World War II.
The motto "Better living through chemistry" compelled ginger ale makers to abandon pure ingredients and pursue chemically-enhanced concoctions that included artificial flavors and high fructose corn syrup.