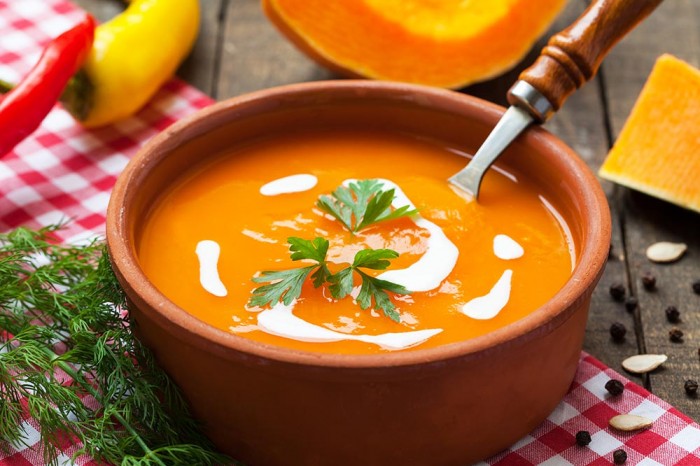 Golden Squash Soup
Prep and Cook Time: 30 minutes
Ingredients:
1 medium-sized butternut squash, peeled and cut into 1/2-inch pieces (about 3 cups)
1 large onion, chopped
3 medium cloves garlic, chopped (use garlic as your personal taste allows)
1 TBS chopped fresh ginger
1 tsp turmeric
1 tsp curry powder
1 TBS + 2-3/4 cups chicken or vegetable broth
6 oz canned coconut milk
2 TBS chopped fresh cilantro
salt & white pepper to taste
Directions:
Chop onion and garlic and let sit for 5-10 minutes to enhance their health-promoting benefits.
Peel and cut squash.
Heat 1 TBS broth in medium soup pot. Healthy Sauté onion in broth over medium heat for about 5 minutes, stirring frequently, until translucent.
Add garlic and ginger, and continue to sauté for another minute. Add turmeric and curry powder, and mix well. Add squash and broth, and mix. Bring to a boil on high heat. Once it comes to a boil reduce heat to medium-low and simmer uncovered until squash is tender, about 10 minutes.
Place in blender and blend with coconut milk. Make sure you blend in batches filling blender only half full. Start on low speed, so hot soup does not erupt and burn you. Blend until smooth, about 1 minute. Thin with a little broth if needed. Season to taste with salt and white pepper. Reheat, and add cilantro.
Serves 4