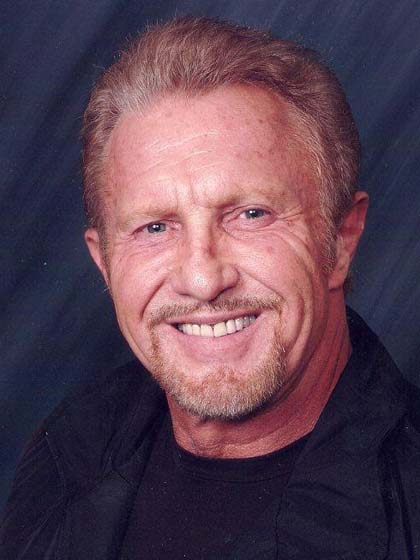 Exercises For Work And Home: Part Four
Joel Peterson – Level 5 Personal Trainer Apple Athletic Club
Please, if you have not read the above issues go back into our archives and educate yourself on the dangers of prolonged sitting. Those dangers are very real, but fortunately we can not only negate these dangers we can strengthen our bodies and improve our range of motion with just a few exercise movements a day. Again, visit the archives for the above exercises. This week in part four we want to expand on these movements to further your quest for a healthier lifestyle.
Now that we have a variety of exercises to work with we can begin putting them together in a coherent workout program. I would like for you to continue working with the previous exercises along with experimenting with the new ones here.
Next week I will put together an exercise program for you that will incorporate the appropriate movements, sets and reps. Stay caught up on these posts as there will be many variations and alternate programs for you to follow. Variety in movements is an essential key in acquiring a well-rounded exercise program and a strong, balanced body.
These new movements below are getting a little more advanced and I caution you, again, take it slow and easy any time you engage in a new or unfamiliar movement.
Remember
BURN IS OK! IT'S GOOD! PAIN IS NOT! IT'S BAD!
ANYTIME YOU FEEL A SHARP PAIN STOP IMMEDIATELY. IT MAY BE NOTHING MORE THAN A NERVE FIRING BUT IT COULD BE AN INDICATOR OF AN INJURY – OR POTENTIAL INJURY.
ALWAYS SEE DOCTOR WARD REGARDING ANY PAIN ISSUES OR BEFORE BEGINNING A VIGOROUS EXERCISE ROUTINE.
BE SAFE! AND NEVER, EVER PUSH YOUR BODY BEYOND "MILD DISCOMFORT".
MORE IS NOT BETTER. SMARTER IS BETTER.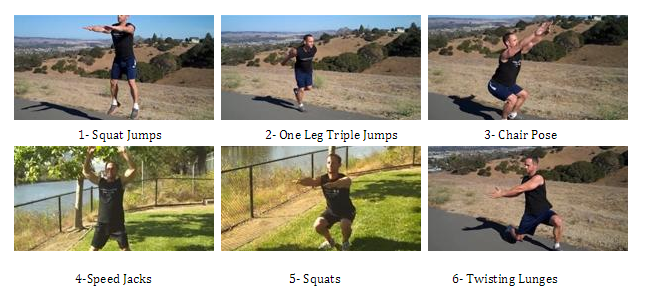 Exercises
1. SQUAT JUMPS: From a squat position thrust yourself upward so your feet leave the ground. I like to pretend I'm making a basketball jump shot. Return to squat position and repeat as many times as you can until you need to rest. Perform 3 to 4 sets.
2. ONE LEG TRIPLE JUMPS: Simply hop forward on one leg three hops then switch to other leg for three hops. Repeat until you need to rest. Perform 3 to 4 sets.
3. CHAIR POSE: Using the above photo as your guide, assume the position and maintain for as long as you are able. Perform 4 sets.
4. SPEED JACKS: You remember "jumping jacks" from P.E.? This is where as you jump up you spread your legs out and bring your arms together overhead and then go back to starting position (standing straight, arms at side and feet together) and repeat. Well, now do them as quickly as possible until you need to rest. Perform 3 to 4 sets. (FACT: these were named after the great Jack LaLanne who started people doing them on his TV show in the 1950's)
5. SQUATS: Starting in the standing position with arms held out front slowly bend your knees until you come the degree of squat where you feel safe (do not go beyond mild discomfort) and stand up straight again. Keep your back straight throughout the entire movement. Perform 3 to 4 sets.
6. TWISTING LUNGES: From a standing position thrust your right leg forward as far as you can and lower your body either until your left knee touches down or you are at the "mild discomfort" area. Hold that position and with arms outstretched in front of you and hands clasped together, twist first to the right and then to the left. Rise and repeat with left leg forward. Continue until rest is needed. Perform 3 to 4 sets.
Benefits
Go back to the previous issue, Summertime – Let's Get Active, and re-read the many benefits of exercise. Positive re-enforcement will help keep you fired up!
Fitness Truths
Carbohydrates, protein, fat, and alcohol have 4, 4, 9, and 7 calories per gram respectively.
It takes about a 3500 calorie deficit to lose 1 pound.
Insulin and growth hormone have an inverse relationship. You must keep insulin under control if you want growth hormone to do its job of mobilizing fat.
The average person can store 500 grams of glycogen.
Only fat and protein are essential macronutrients – carbohydrates aren't (but that doesn't mean you shouldn't eat them).
Muscle glycogen is about 3 parts water to 1 part glucose. This can add water weight at the beginning of a strength training program.
You burn more calories during the 23 hours you don't exercise than the 1 hour you do.
You don't need to do cardio to lose weight. You only need a calorie deficit. But that doesn't mean it isn't a useful tool.
The fat burning zone does not burn more total fat calories – only a higher percentage of calories from fat. Total calories burned is what matters.