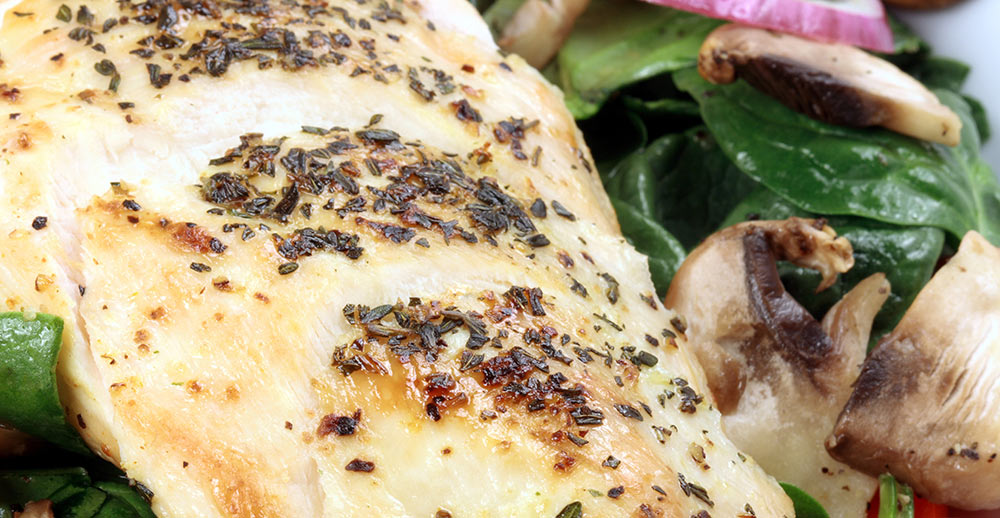 Broiled Rosemary Chicken over Puréed Lentils and Swiss Chard
Prep and Cook Time: 35 minutes
Ingredients:
3 boneless chicken breasts (6 oz each)
2 cups or 1 15 oz can (BPA free) lentils, drained
1 bunch Swiss chard
1 medium-sized onion, chopped
3 cloves garlic, chopped
1-1/2 cups Cremini* mushrooms, sliced
3 TBS vegetable or chicken broth
1/2 tsp dried thyme
1/2 tsp dried sage
1/2 cup walnuts
1 TBS + 3 TBS fresh lemon juice
1-1/2 TBS chopped fresh rosemary (or 2 tsp dried)
2 cloves pressed garlic
2 TBS + 1 TBS olive oil
salt and pepper to taste
Directions:
Chicken Preparation
Preheat the broiler on high and place an all stainless steel skillet (be sure the handle is also stainless steel) or cast iron pan about 6 inches from the heat for about 10 minutes to get it very hot.
While the pan is heating, rinse and pat the chicken dry and season with lemon juice, salt, and pepper.
Leaving the skin on, place the breast skin side up on the hot pan and return it to the oven. It is not necessary to turn the breast because it is cooking on both sides at once. Depending on the size, it should be cooked in about 7 minutes. Remove the skin before serving; it is left on to keep it moist while broiling. The breast is done when it is moist, yet its liquid runs clear when pierced. The inside temperature needs to reach 165 degrees Fahrenheit (74° Celcius).
Place 3 TBS lemon juice, pressed garlic, chopped rosemary, salt, and pepper in small sauté pan and heat on stove for a minute. Turn off heat and whisk in 1 TBS olive oil.
Remove skin from chicken, slice into thirds, and serve with puréed lentils and chard. Drizzle rosemary lemon broth over chicken and lentils. Serve.
Chard Preparation
Bring pot of water large enough to cook the chard to a boil.
Chop chard.
When water has come to a boil, add chard and boil for 3 minutes.
Drain chard and toss with 2 TBS olive oil and 1 TBS lemon juice and salt and pepper to taste.
Lentil Preparation
Chop onion, garlic, mushrooms, thyme, and sage and then sauté them in medium sauté pan over medium-low heat for just about 5 minutes, stirring frequently. Add lentils, walnuts and 3 TBS broth and heat through.
Purée mixture in blender or food processor with salt and pepper to taste. You will have to scrape sides of blender with a rubber spatula a few times.
Serves 4