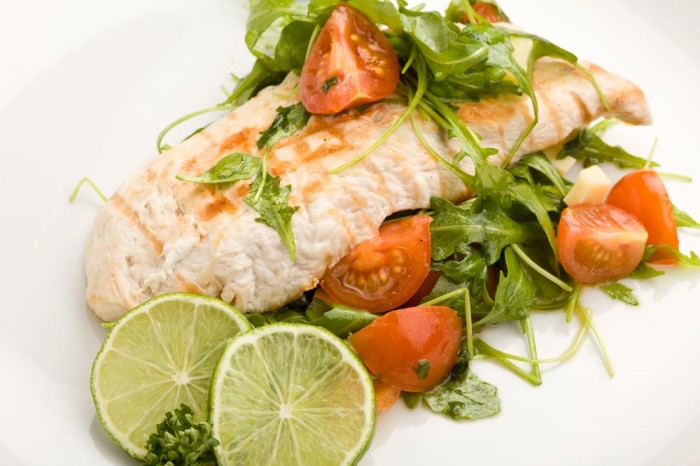 Baked Chicken with Lime
Ingredients:
2 limes
1-inch piece of fresh ginger root, peeled and finely grated
1 teaspoon Thai fish sauce
1 tablespoon peanut oil
1 large bunch of cilantro
4 chicken breasts (about 5 oz each)
2 cups jasmine rice, rinsed
2 3/4 cups cold water
salt
Directions:
Preheat the oven to 400°F and line a roasting pan with foil.
Finely grate the rind from the 2 limes, squeeze the juice from one of them, and finely slice the other.
Place the lime rind and juice in a mini chopper or the small bowl of a food processor with the ginger, fish sauce, oil, and cilantro, including the stems. Blend to make a paste.
Cut 3 deep slashes diagonally into the chicken breasts and rub the paste all over the chicken. Place a slice of lime into each slash.
Place the chicken breasts in the roasting pan, cover with foil, and bake in the preheated oven for 18–20 minutes, until the chicken is cooked through.
Meanwhile, place the rice in a large saucepan with the measured water, season with salt, and bring to a boil. Reduce the heat, cover with a tight-fitting lid, and cook gently according to the package directions, until all of the water has been absorbed and the rice is tender and sticky.
Serve the chicken with the sticky rice, drizzled with chicken juices.