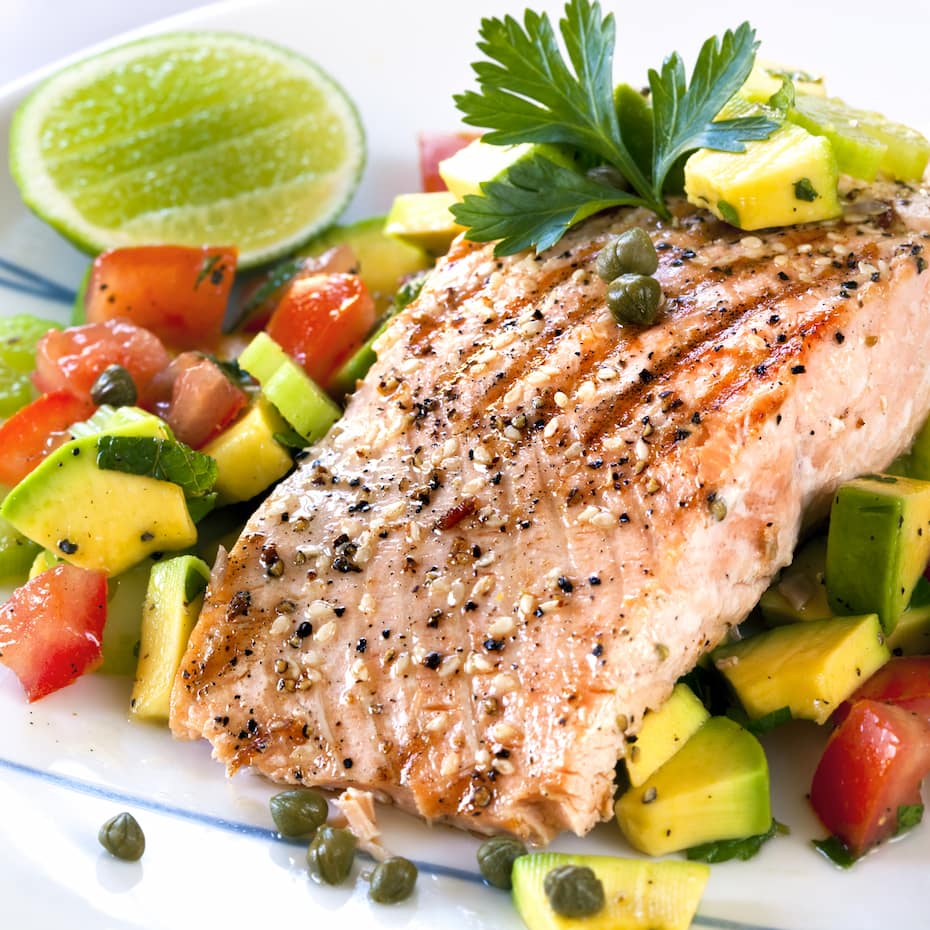 5 Spice Salmon
Prep and Cook Time: 30 minutes
Ingredients:
1 lb. salmon filet cut into 4 pieces
6 dried medium shiitake mushrooms soaked in 3/4 cup hot water for about 15 minutes (save water)
1 medium sized onion, chopped
2 cloves garlic, chopped
1 TBS fresh ginger, chopped, or 1/3 tsp dried
1 cup vegetable stock
1 tsp 5 spice powder (can be found in Asian section in supermarket)
3/4 cup fresh orange juice
2 TBS molasses
2 tsp arrowroot
4 cups shredded Chinese, or Napa cabbage
6 scallion, chopped
salt and white pepper to taste
Directions:
Soak shiitake mushrooms in 3/4 cup hot water. Slice when soft, cutting out stem. Preheat broiler on high.
Sauté onion in medium saucepan over medium low heat for about 5 minutes stirring frequently. Add ginger and garlic and continue to sauté for another minute. Add vegetable stock, 5 spice powder, orange juice, and molasses. Simmer for 15 minutes. Strain and discard all but liquid. Place liquid back into pan, and thicken with arrowroot dissolved in a little water while simmering.
While sauce is cooking, simmer in another medium sized sauté pan cabbage, mushrooms, scallion, salt and pepper in mushroom water for 5 minutes.
Rub salmon with salt and pepper. (You can Quick Broil with the skin on; it just takes a minute or two longer. The skin will peel right off after cooking.)
When pan is hot, use a hot pad to pull out the pan from the heat and place salmon on it, skin side down. Return to broiler. Keep in mind that it is cooking rapidly on both sides so it will be done very quickly (usually about 7 minutes for every inch of thickness.
Serves 4