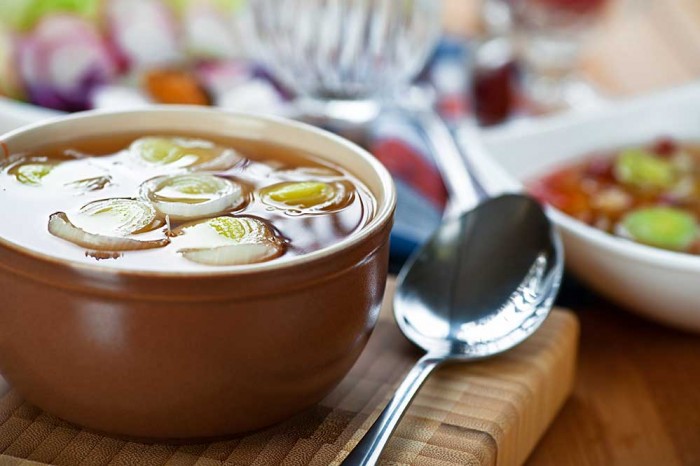 5 Spice Onion Soup
Prep and Cook Time: 30 minutes
Ingredients:
1 medium onion, chopped
1 TBS + 6 cups chicken or vegetable broth
1/2 inch fresh peeled ginger, sliced
6 whole cloves
1 cinnamon stick, about 4 inches long
3 star anise
1/2 tsp dried fennel seeds
6 whole dried medium shiitake mushrooms
1 TBS soy sauce
1 TBS blackstrap molasses
Additional Ingredients
2 onions, cut in half and sliced thin
6 cloves garlic, sliced
salt and white pepper to taste
Directions:
Chop 1 onion. Thinly slice two onions and garlic, which will later be added.
To prepare onion broth, heat 1 TBS chicken or vegetable broth in medium soup pot. Healthy Sauté chopped onion over medium heat for 5 minutes, stirring frequently, until translucent. Add 6 cups of chicken or vegetable broth and remaining onion broth ingredients and stir. Bring to a boil, reduce heat to medium low, and simmer ingredients briskly together for 20 minutes, uncovered. This will bring out a lot of flavor from the ingredients.
In a separate medium sized stainless steel skillet, heat 1 TBS of the onion broth over medium heat. Healthy Sauté sliced onions over medium low heat in broth, stirring often for about 5 minutes, until translucent. Add garlic and sauté for another minute.
After cooking broth for 20 minutes strain while it is still hot and return liquid to pan.
Slice mushrooms (and discard rest of strained ingredients) and return to broth.
Add sautéed onions and garlic and season with salt and white pepper to taste.
Serves 4