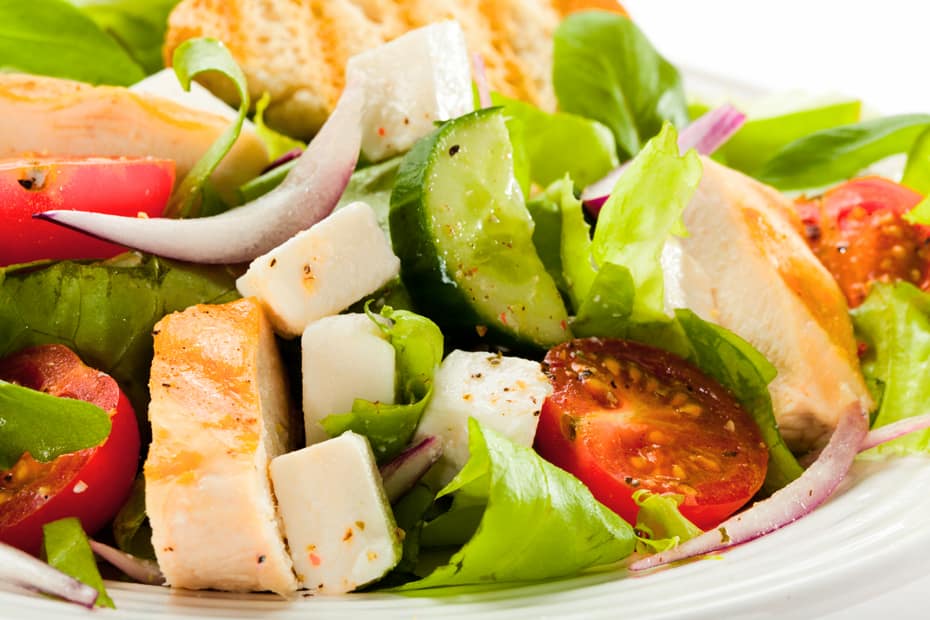 15-Minute Broiled Chicken Salad
Prep and Cook Time: 15 minutes
Ingredients:
4 boneless chicken breasts
1/2 lb mixed salad greens
1/4 cup sliced fresh basil leaves*
2 TBS fresh oregano leaves*
2 oz gorgonzola cheese
2 TBS fresh lemon juice
salt and cracked black pepper to taste
*Since the herbs are being used in a salad, there is no conversion for dry herbs. If you don't have these fresh herbs on hand, you can just enjoy the salad without them.
Directions:
Preheat the broiler on high and place an all stainless steel skillet (be sure the handle is also stainless steel) or cast iron pan about 7 inches from the heat for about 10 minutes to get it very hot.
While pan is getting hot, rinse and spin dry salad greens along with basil and oregano leaves. For oregano, simply run your fingers down the stem to remove leaves and place whole in salad.
When pan is hot, season chicken breasts with a little salt and pepper and place on hot pan skin side up. Return to broiler and cook for about 15 minutes, or until done, depending on the thickness of the breasts. The breasts cook fast because they are cooking on both sides at the same time. This is our Quick Broil cooking method. When chicken is just about done, remove skin and top breasts with a little gorgonzola cheese and return to broiler to melt. (If you're not sure if chicken is done, make a little slice with a small sharp knife to check. It should be only slightly pink.)
Toss greens with lemon juice, olive oil, salt, and pepper. Distribute greens onto 4 plates. Place chicken breasts on top of greens. Serve.
Serves 4